THE TWO KINGDOMS TRACT
The Two Kingdoms
tract is a simple way to introduce the Gospel of the Kingdom.
Read as an ebook or print as a simplex or duplex booklet for FREE!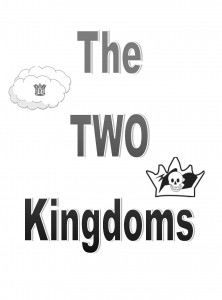 The Laws of the Kingdom of God have been sent from Heaven to Earth. And God desires to rescue men from the kingdom of darkness and adopt them as sons of His Kingdom.
The Laws of God's Kingdom are opposite of the kingdom of the world. Here is a sample:
It is more blessed to give than to receive…Treat others the same way you want to be treated…To be greatest in the Kingdom of God, you must be servant to all…Love everyone, even your enemies…You must forgive others for God to forgive you…Blessed are the poor; cursed are the rich…To be a friend of the world makes you God's enemy.
The kingdom of darkness consists of power, wealth, possessions, pleasures, entertainment, politics, tribalism, patriotism, denominationalism, and even religion. The Kingdom of God consists of love, service, generosity, and a total commitment to obey the King's Laws. To be saved from slavery to Satan, the ruler of the kingdom of the world, we must repent, or turn our allegiance from the kingdom of darkness to God's Kingdom.
Follow the link to print/download/share as much as you wish.
http://kingdomdriven.org/purchase-resources